CourseConductor.com connects you to the best courses, everywhere.  Think of CourseConductor.com as 'Trip Advisor' for project management training.
Why is it, that we can easily find the best hotel or the best restaurant anywhere in the world within 5 minutes, but when it comes to finding the best project management courses it's incredibly difficult; and when we do find one, we feel like Forrest Gump with his chocolates – we never really know what we are going to get.
How can CourseConductor.com help you?
CourseConductor.com  is a new customer review website that connects everyone in the project management industry to the best courses, everywhere. Every aspect of CourseConductor.com has been designed to help professionals and training providers connect and be more successful.  We do this by empowering you, the professional, to write and share reviews about your training experiences.
Why is your course review so important?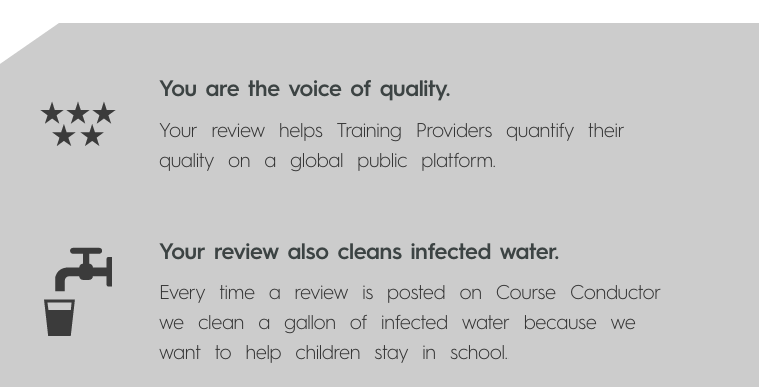 CourseConductor.com launches with the best of the best.
To launch the beta version of CourseConductor.com I have curated a spectacular community of 20 Founding Members, which includes the world's best and most trusted Training Providers from the UK, USA, Canada, Australia, India, Kuwait, Poland and UAE.  Many of our Founding Members have been instrumental in creating the global project management standards as well as being heavily involved in PMI Chapter leadership.
CourseConductor.com already contains 473 courses in all formats across all project management skills sets including project, programme, portfolio and PMO management as well as business analysis, benefits management, leadership and many more. In addition to all this – I am incredibly proud to say that APMG International and PMI UK Chapter are already with us as Trusted Partners; both organizations are highly respected globally and dedicated to advancing our profession.
So, form this point onwards you will never have to experience the pain of searching for high quality project management courses again because the best of the best are on CourseConductor.com, and over the coming weeks we'll be adding the Training Providers on our waiting list along with thousands of other courses globally.
A new community with a big vision: "Better Skills, Better World"
We believe that 'Better Skills' really can make a 'Better World' for professionals, training providers and people in need.  During the last 4 weeks over 1200 professionals have joined the Course Conductor community via CourseConductor.com, Facebook and LinkedIn – they've all joined because they too believe in this vision.
A Better World: Social sustainability is very important to us all, so for every review posted on CourseConductor.com we clean one gallon of infected water because we want to help children stay in school.  Our chosen charity is UNICEF and whilst I see this as a small first step, our social sustainability efforts will grow as the community grows.
How you can get involved with the Course Conductor community today?
• Are you inspired? If this post and our vision has inspired you, we'd love for you to help the community grow by sharing this post.
• Write a review now: If you've been on one of the courses provided by our Founding Members you can write a review now. In addition, every Management of Portfolio's (MoP) course is listed on CourseConductor.com, so if you've done your MoP Foundation or Practitioner – you can write a review now.
• Cant find you Training Provider on CourseConductor.com? Write the name of the company in the comments below and we'll try to prioritize the Training Provider on the waiting list and let you know when they are on board.
• Join the growing Community now: We've got some really cool stuff in the pipeline including awesome visualizations, global trends, news and course review stats.  If you want to be first to get this stuff then definitely sign up directly on CourseConductor.com (you can do it in one click with your LinkedIn account).  Also, connect on our LinkedIn and Facebook pages too which are growing fast.
• For Training Providers: If you would like to join the Course Conductor waiting list, please click here and we'll be in touch with you very soon.
Finally, thank you for reading this, thanks to the Founding Members and Trusted Partners for pushing boundaries with us, and special thanks to our friends and families that have been there supporting us during this first chapter.
If you have any thoughts or questions about CourseConductor.com, feel free to pop a comment below or email me directly.
Chapter 2, here we come.
@CourseConductor